Restaurant review: Thai Prime Kitchen & Bar brings a new cuisine to Boy Scout Boulevard's restaurant row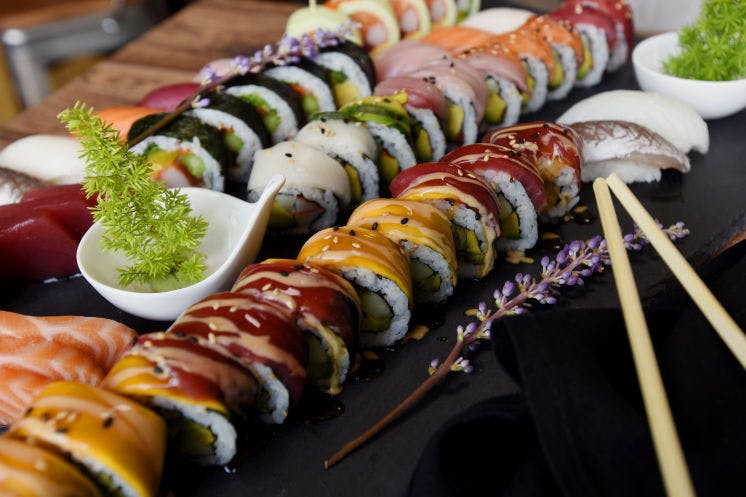 MetWest International has added to its already stacked lineup at its retail center across from International Plaza and Tampa International Airport. Joining Cooper's Hawk Winery and Restaurant, Kona Grill, Texas de Brazil and Del Frisco's Grille, Thai Prime Kitchen & Bar opened its doors May 11. It's a monster project, nearly 3,000 feet and almost 200 seats with a wide patio and an edgy design sense that blends brick, reclaimed wood and wide banks of windows with high, stainless steel bar stools and glamorous crystal birdcage fixtures. If you didn't know it was a Thai restaurant, you wouldn't know it was a Thai restaurant.
Frequently in these parts, southeast Asian restaurants are modest mom-and-pop affairs. This reads like the work of ambitious pros. Co-owner Jeff Fordham has three other restaurants, and partners David and Vong Chong have had Thai Samurai in New Port Richey for the past six years. (Daughter Krista has been the sushi chef there while son Michael, a culinary school grad, was most recently with Hyatt.)
Parking at MetWest has gotten to be a bit of heartache, with drivers stalking pedestrians and gunning it when they spot taillights. But once you've landed, you're likely to be seated swiftly at Thai Prime despite frequent throngs in the vestibule. And then you are handed a staggering volume of reading material: oversized double-sided laminated menus, drink menus, happy hour specials, sushi menus, etc. Don't panic. Divide and conquer. You pick a couple of sushi rolls, he can choose a noodle and a curry, I'm on soups and appetizers.
What I can't figure out is why beverages almost invariably lag behind appetizer orders. Where are servers going to retrieve wine, beer and cocktails? It's clearly not the bar right near the front door that sits between the patio and main dining room. Eventually drinks find you, but this seems like a glitch management should take a look at.
This is a sharing place, partly because some of the better dishes are things that don't lend themselves to a hold-your-own approach. Traditional Thai salads like nam sod ($12) or yum duck ($18) are bracing with slivers of ginger and red onion and a chili lime wallop, but these salads seem more refreshing and appetite-boosting if you split them among several people. Same goes for the tempura-fried or grilled fish (snapper, grouper, mahi mahi, $15-$25), which can be topped with an array of sauces, from sweet chili to green curry or zingy ginger and is served with a dome of rice. Shared, they can be accessorized, maybe with a fried rice or the volcano tofu ($18), a lovely platter of fried tofu cubes and mixed veggies. I would say that Thai Prime could add some nonfried veggie options to juxtapose with the heavier and fried entrees.
Many dishes here will be familiar to Thai and/or sushi restaurant veterans, but executions are careful and plate presentations attractive. Prices are higher than most Tampa Thai spots, but you're paying for elevated ambience. If you're looking for a bargain, orchestrate a visit during the Thai Prime happy hour, daily from 3 to 7:30 p.m., with two-for-one drafts, $6 margaritas and mojitos, and an array of sushi rolls that are two for $15. These include some crowd-pleasing classics like the Mexican (tempura shrimp, avo, roe, mayo) and the spicy tuna. And if you've felt prudently frugal with your happy hour selections, it means you can splurge on one of the sizzling volcano hot plates (think jumbo shrimp and scallops in a chili sauce, $24, all of it making enough noise and smoke to merit a short video), then finish things up with one of Thailand's near-perfect desserts: mango and coconut milk-enriched sticky rice ($8; especially soothing if you, in a moment of hubris, thought that ordering "Thai hot" was a good idea).
Boy Scout Boulevard is increasingly Tampa's restaurant row, many of the options high-end chain outposts. The only Thai option and among the only independents, this is likely to compete ably, especially given its prime location.
Contact Laura Reiley at lreiley@tampabay.com or (727) 892-2293. Follow @lreiley on Twitter. She dines anonymously and unannounced; the Times pays all expenses.